INTERVIEW # 3, Brookes Britcher + Bryan Rice
A Certain Slant of Sunlight, Mound, Archival digital print, 23″ x 32 1/2″ (2012)
"I think when a band starts out there is usually a bit of a golden period when the combination of individuals is fresh and untested so you explode out of the gate with a bunch of ideas sparked from the newness of interaction. After a while you get accustomed to certain tendencies from each other so you may have to work a bit harder to undercut your own expectations….. Guy Picciotto, Fugazi (from a compilation by Temporary Services)
This project (Bedfellows) is curious about the energy and characteristics of a sustained collaborative practice. Like many partnerships, the beginning moments are full of promise with outcomes that are anticipated but open-ended. I was especially interested in a Bedfellows interview between artists Brookes Britcher and Bryan Rice because their collaboration is new. I suppose this interview could be a snapshot at the start of their work together.
Britcher and Rice are developing an intricate and ongoing project, poetically called, A Certain Slant of Sunlight. Initiated with the right amount of playfulness, nostalgia and melancholy, it's a multi-media body of work that constructs a fictitious semi-professional baseball player named Eli Whittaker from Nazareth, Pennsylvania. With Whittaker as our proxy, the project recounts a narrative of American culture, relating our common pathos, joys and struggles.
A Certain Slant of Sunlight, Eli Whittaker – Age 12, Chromogenic print, 21″ x 17″ (2012)
The two artists approach this project from seemingly disparate solo artistic practices. Baseball is their common ground. Brookes Britcher is multi-disciplinary artist based in Philadelphia and founder of the curatorial-collective Adaptation (Philadelphia, PA). He has worked with various organizations, galleries, municipal agencies and communities to develop and execute unique creative projects around the United States. He received his MFA in Photography from the Cranbrook Academy of Art in Bloomfield Hills, Michigan and his BS from Drexel University in Philadelphia.
Bryan Rice is a Philadelphia-based painter and craftsman. Beyond his personal studio practice, Rice has collaborated with countless regional artists and exhibition venues on the fabrication of original works. These projects have been exhibited at My House Gallery (Philadelphia, PA), Little Berlin (Philadelphia, PA), the Delaware Center for Contemporary Arts (Wilmington, DE) and within the Wissahickon Valley Park (Philadelphia, PA). He received his MAT from the University of the Arts (Philadelphia, PA) in Arts Education/Teaching and his BFA from the University of the Arts in Painting/Drawing.
New work from A Certain Slant of Sunlight will be exhibited at the Delaware Historical Society and Museum in conjunction with the 2012 Wilmington Fringe Festival in Septemeber and at the Delaware Art Museum in conjunction with their Centennial Exhibition in October.
Websites:
thelifeandtimesofeliwhittaker.wordpress.com
brookesbritcher.wordpress.com
bryanpatrickrice.blogspot.com
A Certain Slant of Sunlight, The son is up (Young Ulysses first encounters the Cyclops), Wood, grass, paint, 96″ x 96″ x 48″ (2012)
THE INTERVIEW
Brookes to Bryan
(BB) A prevailing element in our current project is invention - and to some extent creating a "lie". Without incriminating yourself, what was the longest "lie" you have ever kept up?
(BR) I like this question because it is asking for very telling introspection but only enough to present with humor.  Haha!  The longest and most apparent lie I've ever kept up is that it looks like I know what I'm doing.  What a farce.  The truth of the matter is, I like doing.  Most people don't see this, but I practice and analyze pretty hard, and someday I'll lay my mistakes out in a line to circumnavigate the globe.  I believe it was de Kooning who was asked about the merit of painters mimicking his aesthetic and in response he simply stated that they don't get to make the bad ones.  The lie is that we're these eloquent creatures with our finger on the pulse of humanity; we're just as lost as anyone can be, but we don't mind being lost when we can play with things in the process.
Bryan Rice, Poem I, Oil on canvas, 48"x52", (2012)
(BB) You have played a great deal of baseball growing up, and watched countless more contests. What is your favorite play that could occur in a baseball game, either as a player or a spectator?
(BR) For me it is undoubtedly a shortstop fielding a groundball up the middle.  The movement of the game is so subtle and so seemingly determined.  It is as if the trajectories of the ball and player are already carved out of the infield.  They move through these crevices with the certainty of water sinuously following the dried cracks of a desert floor.  As ball and player meet, there is simultaneously an absorption and transfer of force through their fluid momentum, and the ball then whisks through the air to cut down the runner as might an archer on horseback.  That is the play, most definitely.  It should not be forgotten though, how fickle ball and field can be to a fielder, and one should go to the greatest lengths to understand them and understand them well. 
(BB) The process of your painting often deals directly with the physical layering of gestures, concealment and erasure. Your practice often reminds me of a writer crafting a novel - or as you have described it: "as a game of chess". Your canvases feel much like a baserunner determining to steal or not - when to make the big gesture, when to show restraint. Can you describe the decision-making process with your work?
Bryan Rice, After, Oil on canvas, 52"x56", (2012)
(BR) It's funny, that line "when to make the big gesture, when to show restraint."  Recently I spent some time describing my painting and thought processes to my parents, and I described them as a match between passion and temperance.  Ultimately I feel that my paintings develop by a conception of ethics.  That is to say I feel as though there are right and wrong moves at any point in the development of a work.  Sometimes they strike me quite vividly and sometimes they take their time revealing themselves to me, but they are always there, always necessary.  I believe there to be levels of constant dialogue happening, between myself and the work, between concept and medium, between past and present.  My ethical decisions are informed and ultimately develop through these dialogues.  That's all I can say without giving too much away.
(BB) Over the years you have worked directly with numerous artists in a variety of mediums to help them execute and create their works. What draws you to this level of personal investment in the work of another artist?
(BR) In all honesty, it lends itself to some level of selfishness I'm sure.  I, like anyone, enjoy being relied upon in some capacity.  Mostly though, it offers me the opportunity to work on projects that I would have never thought to conceptualize myself.  In my studio practice I'm constantly exploring problems and relationships; when working on someone else's project I am constantly exploring solutions.  I enjoy the challenges of being able to work within modes of thinking and familiarity.
(BB) Although we have discussed starting it for some time, A Certain Slant of Sunlight is still a young project for us. Where do you think the project will be in a year? Where would you like to see it?
(BR) This project has offered us an opportunity that I don't believe either of us will understand for quite some time.  That's the beauty of it.  A year from now we will know a man that never existed with a little more certainty, but the problems of his life and impact will have grown.  This project already has the seasonal feel of baseball, so after what will likely be a strong rookie season I just hope that we're not asked to grace the cover of some video game or magazine because I've seen those accolades destroy too many sophomore seasons.  Yes, I am that superstitious.  

A Certain Slant of Sunlight, Bedford, Indiana – 1935 (Hanging heart), Yarn, cast plaster,  86″ x 17″ x 17″ (2012)
Bryan to Brookes
(BR) In your 3-dimensional work you organize line and pattern in very distinct and interesting ways.  You translate and employ these very 2-dimensional sensibilities to your 3-dimensional work with great acuity.  How has your background in photography informed your use and development of these very 2-dimensional elements in a 3-dimensional format?
(BB) Having spent my entire creative life employing photography I gradually realized that I was less interested in making pictures, but instead, what I was photographing, the object of the photograph and its personal implications. I can attribute this perceptual shift to graduate school and my exposure to an intense dialogue regarding semiotics. It was very freeing for someone experiencing photography in a highly technical mode to begin to understand the medium as a potent vehicle for more abstract meaning and connections. I think about the concepts of photography in relation to everything I currently create. Photography as a concept is something that can reach people in ways that other mediums cannot. Everyone has a relationship to an image - as both an object and a representation. The notion of "truth" and "lie" that has inundated the medium since its inception has always intrigued me - because it is very much an active dialogue, and a very contemporary one. The push and pull between these two diametric observations is actually part of what makes our collaboration captivating. We have imagined a person, but what do we create to give him a life? 
(BR) Another very distinct aspect of your work is your use of materials.  You utilize what were once utilitarian objects (i.e. extension cords and spoons) and combine them in such a way that reconstitutes their original purpose and redefines their narrative.  How has this accumulation and combination of unlikely materials contributed to your artistic maturation, and do you feel that these efforts have helped to inform your curatorial sensibilities as well?
(BB) Often times it is the materials that inspire the work and help guide it. I feel as though everything I work with has its own story or history. I strive to respect the things encapsulated in my material choices. It seems to me the most potent way to foster a genuine relationship between the viewer and the piece. The goal is to transform the materials without extinguishing their sentiment. They need to find a new context but still reach the viewer in a more fundamental way. I find myself continually inspired by Louis Kahn and his respect for materials.
Brookes Britcher, Tockwogh (Mystic Truth Machine), *materials listed at end, 71"x 110" x 48", (2010)
"To express is to drive. And when you want to give something presence, you have to consult nature. And there is where Design comes in. And if you think of Brick, for instance, and you say to Brick, "What do you want Brick?" And Brick says to you "I like an Arch."And if you say to Brick, "Look, arches are expensive, and I can use a concrete lentil over you. What do you think of that?" "Brick?" Brick says: "… I like an Arch"" Louis Kahn
My personal practice certainly informs my vision for the exhibitions I develop. Like cooking a great dish, exhibitions need balance and complex elements all working in unison. Many exhibitions I visit always seem to be looking to present a "period" to a statement. I have always been more interested in developing active participation from the artists in shows I have worked on. It provides this amazing sense of collaboration and communal "ownership" to the project. I've always attempted to develop shows that reach a wide audience but still retain the intent of the artists involved and create an active dialogue with the exhibition concept. I would much rather spend time working with an artist discussing a new piece that may succeed in the exhibition - perhaps have it fail, than select their "greatest hits". I want to learn from the shows I produce and the artists involved. I love working with artists willing to take those sometimes perilous risks with me.
(BR) Many of your works have an inherent personal narrative.  When did you decide that baseball was a viable concept to mine artistically? 
(BB) I always felt that there was something almost "magical" to the game. It has a timeless quality to it and has a deep and documented history. I have always been drawn to the spaces it inhabits, the activity itself and its potential for metaphor. The calculation of every aspect of the game, from the field to the sequences - it becomes a well orchestrated theatric of sorts. I think the fact that if you fail 70% of the time at the plate you are still considered highly successful rang true as well. It feels like an artists' story…someone's story.
(BR) Playful gestures and problem solving seem to be integral to your creative practice.  How do you feel these processes have translated to our collaborative artistic efforts? 
(BB) A good collaboration is like a strong marriage it seems; a fluid and open dialogue needs to exist at all times for it to be successful and lasting. Both of us have our own creative interests, our own sensibilities and our own intuitive thinking. I have approached our collaboration inviting a sense of discovery. I believe that we can learn a great deal from each other through this process. It is vital that we allow ourselves to move beyond the personal comfort zones or expectations we may keep within our individual studio practices. Hopefully my playful attitude helps create a comfortable space where creative "risks" we would not normally take on our own become inviting.
Brookes Britcher, Seashell for lovers, Cardboard, duct tape, tube, yarn, label tape, packing tape, natural sound, Interactive performance (2008)
(BR) Many artists describe a felt need or a necessity when they discuss their artistic motivations.  What do you feel are the driving forces, the reasons for response and translation, in your artistic output?
(BB) My greatest inspiration for making work is simply my life. I am continually fascinated by the way existence manifests itself in our experiences. I approach my work as a pseudo-journal of sorts I suppose. It becomes a vehicle to allow me to attempt to make sense of what is around me, what affects me and what haunts me. I think as long as I am experiencing something I will be making work about that relationship. My hope is that the good work resonates with others and perhaps speaks to a more universal connection between people and their showers, their eating habits, their sunburn naps, their job interview nerves, their family dynamics…their lives.
*Tockwough, Cardboard, string, two plastic straws, wood, electrical tape, duct tape, carpet tape, packaging tape, tire, broken telescope, tripod, extension cord, artificial flowers, coolant tank, plant hanger, IKEA frame wire, inside-out cream cheese box, shredded paper, twist-ties, light bulb, used paint stirs, artificial fireplace, plastic quart container, chop-stick, electrical outlet
INTERVIEW # 2, Audrey Hasen Russell + Jon Taylor
I must admit that I didn't know Jon Taylor before I invited him and Audrey Hasen Russell to participate in the interview project. I met Audrey in graduate school at Cranbrook Academy of Art. We both overlapped in the Sculpture Department, she was a year ahead of me. I responded to her work while in school and continued to follow her projects after we both graduated and went on our similarly New York ways. I met Jon after I invited them to do Bedfellows, bumped into them at the Whitney Biennial, just as they had submitted this interview.
However, I discovered Jon's work a couple years ago through a mass mailing about a collaborative show that Audrey and Jon were presenting at ADA Gallery in Richmond, Virginia. The installation, called Sentimental Canoe was a "life responsive sitestall". A phrase that plays on the idea of the site specific installation and the blurring of art and life. Sentimental Canoe brings about a question that is a part of this Bedfellows project, is it possible to escape the infiltration of the personal life into the collaborative art project, especially when you have a cohort that shares that life? Is it harder to shake those influences when there are two minds validating the same instances?

(Russell + Taylor, Sentimental Canoe, 70's era paneling from studio walls, found wood, carpet, plastics, foam insulation, oddly wide tire, gold mirrored plexiglass, various mediums)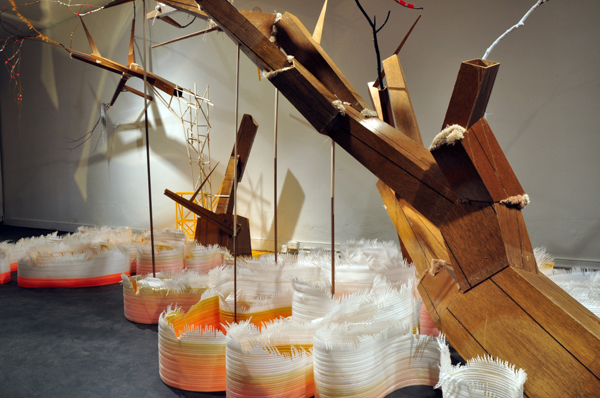 (Sentimental Canoe, detail)

This story starts in late 2008, Audrey and Jon met at SculptureSpace in Utica, New York. Their lives intertwined with their art practices and in 2009 they started renting a building in South Richmond Hill, Queens. They call this collaborative home, building/fortress the Plextangle- a hybridized word taken from the live/work comPLEX and it's long, low recTANGLE shape. Their flexible use of language is tied to their flexible use of identifiable material objects, and I appreciate that analogous and creative approach to language/found things. The two uphold their separate practices and converge sporadically as a collaborative duo.
Jon Taylor exhibits under the pseudonym BurgerTech. His work uses a lighthearted tone to grapple with deeper cultural issues such as American consumption and our relationship to technology versus our own primal states of being. His narrative works investigate these themes creating polemical forms that fuse the poetic with the parodic. The resulting artworks are multi-dimensional in presentation, from performance to sculpture to video to his own belief-structured way of life and making.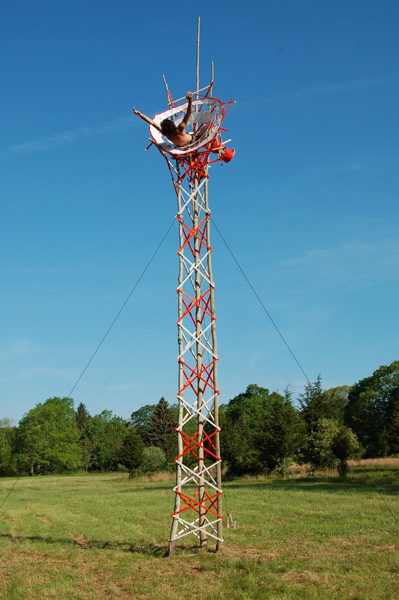 (Jon Taylor, 30' Radar Pants, Found wood, hand wrought nails, polycarbonate signage, paint, tape, rope, 35 x 7 x 5 feet, An attempt to communicate with nature through a naïve interpretation of technology)
Audrey Hasen Russell creates sculptures and installations that are at once organic and architectural; they are fantastical landscapes that bridge notions of memory, time and place. She uses familiar objects that bring a specificity to the works, however those objects are inventively incorporated in the end form to cause a contextual break with those same particulars. In this way the works conjure notions of the indistinct and imperceptible, emitting the feeling of recollecting and some foregone personal experience.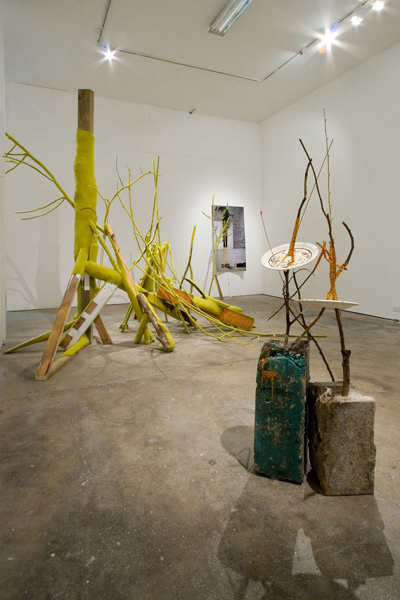 (Audrey Hasen Russell, Installation view "Gold Slaw" **) 
They currently live and work in Queens, NY with their two cats, Diesel and Sherm. Upcoming, Russell has a show viewable at Mixed Greens, opening June 8th, part of an exhibition series organized by Ben Evans. Taylor is developing his art, design, and fabrication endeavors under the name of Enjoinery.
Websites:
www.audreyrussell.com
www.burgertech.com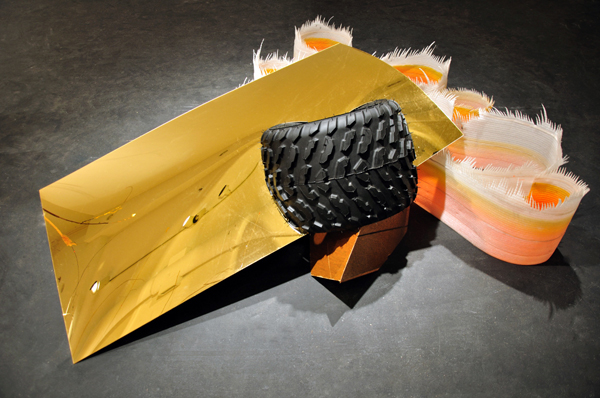 (Sentimental Canoe, detail)
THE INTERVIEW
(Audrey) I like to think of you having a spirit animal guide that has been processed for consumption…… So a 'spirit food'… It  reveals  itself in many forms, directly and indirectly. How is the Burger speaking to you these days? and do you think being able to recognize it makes you 'lucky'? xo
(Jon) I always felt that my spirit animal was the Coyote, and his role as the 'trickster'.  My Coyote burger has felt a bit dormant these days to be honest. Sometimes it's harder than others to see the humor because the best kind of humor is always a little tragic, and the line between amusing
and just plain sad can be a blurry one.  But the Coyote isn't always benevolent, he's there to help you see the truth, to take in a new perspective.  And as to whether or not I feel lucky…. I think it's good to have a mascot of sorts, to be aware of what you identify with.

So…. Having crossed an age threshold, how has your perception of 'being' an artist evolved during your career.  Or, how has the role of your work changed in relation to your life as a whole?
(A) It certainly sent me into a mode of artistic (life) assessment . I felt very good about all the projects I had leading up to and during my 30th birthday… 
I am much more interested in making things people might want to live with/'use' then in the past, though this thought will continue to take a while to concretely embed itself within my practice. There is a 1 to 2 year delay between revelations and the physical representation in my work (if it shows up at all). That's apparently the constant rate it takes me to process time/life. Maybe it's getting faster?? That process pushes the world around me to re-reveal itself in entertaining, sad, formal, bazaar, horrific, interconnected/disconnected, amazing ways. If I can maintain that relationship at the very least, it would make me happy. 
When we work on things together, you are the structure builder/maker maker/visualizer and I am the fluffer/arranger/embellisher. Not just collaborating on art art but also in the home/studio space, a.k.a. the Plextangle. We take our favorite parts of the complete process and do those… it just happens that they are complementary (most…of the time). We have been occupying and renovating an odd building for 2 yrs now. In your most fun vision for the Plextangle (ownership and time and $$$ aside) what would you want us to collab build/insert in our live/work/queens space?
xoxo
I am tired!

(Russell + Taylor, Roadside Attraction Upstate Ice Cave, detail)

(Russell + Taylor, Roadside Attraction Upstate Ice Cave)
(A) You are super busy and have ignored my question. Here's another:
Has building creative projects for retail display and windows affected how you perceive formal art at all? Or how you approach your own creative endeavors? 
(J) I think building/creating for the retail industry is rather analogous to fine art making, especially with the value that I personally place on process. Say for a store window display, you are tasked with creating a general mood with certain key objects, how you get to that end is entirely up to you. Sourcing/scavenging materials, the intelligence of construction, how it fits within the space, the quick turn around time…these are all things that exercise my creative brain.

The forum of a store window is wonderful as well. It is an amazing public space, available at all hours, to all ages, and all income brackets. If you get over the idea that it is 'commercial' art and not an individuals artistic expression (which it actually often is) you realize that there is some amazing stuff out there.

Carrying on with this rant a little bit, I really appreciate the directness of dealing with retail clients. There is a clean line… You are paying me to provide a service/product which will accentuate your product line and hopefully make you more money. My experience in dealing with galleries has generally been a losing proposition… You want me to make a bunch of work and then I might get paid, but probably not. I mean, that leaves a bad taste in your mouth after a while.

I am also not a fan of how specific the definition of 'artist' has become. As an 'artist' it is expected that you derive your income from the making of fine art, though in reality, the artist is practicing in many fields. Our sensibilities and sensitivities, our creative problem solving, and our ability to draw parallels across disparate subject matters… are an undervalued skill set.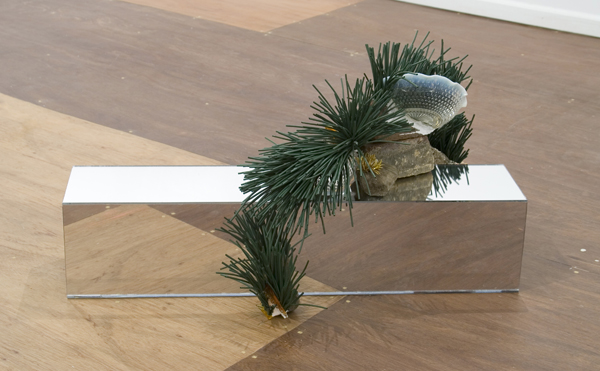 (Audrey Hasen Russell, Dick Brick Wish, Plexi, rocks, bricks, Depression glass dishes, rubber tubing, 48 x 18 x 16 inches)

Thats about all I've got…. Question….If you had a magic society wand, what changes if any would you make to the art world/market?
(A) I love that bit of your rant. The more established artists that I talk to about your position on making things think you are envious, you have alleviated yourself of the mental constrictions of a 'fine art' career. Not sure if that is how you would explain it but that is how they take it.
Perhaps this ties into my magic society wand.
First off, thank you so much for this wand! I love it.
However, I feel like I barely have a grasp on the art world/market. Not understanding it, how can I change it? I'm sure a million aspects can/should be altered to make life more rewarding for the artists, specifically in the American market. Then there's part of me that wants to succeed within the flawed structure that exists (all structures are flawed) so that I can position myself/my work with or against something defined. But then there is a huge possibility that what I understand to be the "market" and "world" only exists in my head. This makes me want to hole up in my studio, make things, and never speak to anyone else, move to the woods, etc etc. My artistic practice also reflects this dichotomy…. wanting to do it all vs. wanting to do nothing…at all times. I think Woody Allen said something to the effect that you have to re-decide to live in New York every single day. (I agree). My participation in the "art world' is a similar decision. I also have to re-decide to pursue my work all the time.
I would want an art market that is sensitive to that process.
I think about the South (or rather imagery from the area around my hometown in Tennessee) a lot when I am cobbling together systems for making my sculptures. Specifically, drawing connections between familiar objects, organic growth and the chaos of urban debris here in the city. At least in my parts of the city…. How do you think that growing up in New Jersey has touched your creative 'hand'? Or regional influences? Or lack of them?
(J) Jersey has definitely played a role in my development, I not so secretly love it. There is a sense of it being many things at once; an amalgamation of cultures, geographies, opinions, perceptions. Your favorite part though is probably my uncharacteristic chest bumping pride.

It's always fun to cheer for the underdog.
(A) I have learned more about Jersey then I ever imagined; perpetual motion of beautiful and grotesque.
(Jon Taylor, Head Acres, Plastic splint material, wood, metal moters, live plants, leather, porcelain, foam, garbage, etc., for one month, the artist's cranium was treated as a landscape. It was clear cut, divided into lots and sold for development.)
(Jon Taylor, Portrait #1, Wood, Mixed Media, Portrait of a porch in Greenville, TN)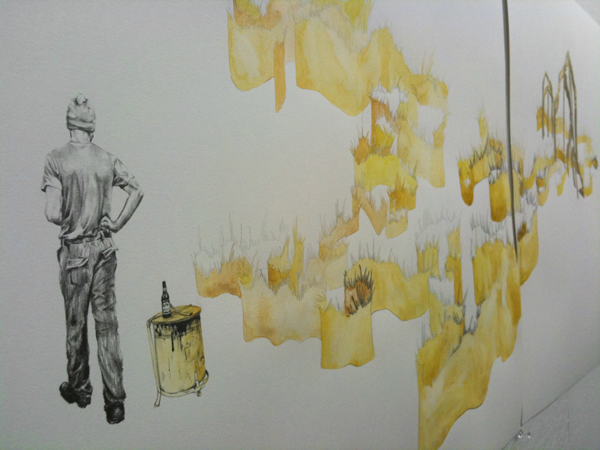 (Audrey Hasen Russell, Hole in My Bucket (Jon Grass Field) detail from diptych, Graphite, watercolor, gold leaf)

**Titles from back to front:
Tangle, Cinderblocks, dishes, sticks, acrylic rhinestones, paint, gold mylar, metallic gold leaf, 68 x 32 x 17 inches
Brush Pile, Fabric, wood, found objects, 113 x 162 x 99 inches
Garden Prop Gold, Digital prints, wood, fabric, gold mylar, metallic gold leaf, 90 x 46 x 30 inches 
INTERVIEW # 1, Mish Meijers + Tricky Walsh
I met Mish Meijers and Tricky Walsh in the summer of 2011 while participating in a show curated by Las Hermanas Iglesias at Flux Factory.  I had encountered their works before meeting them at the urging of the Hermanas sisters. Their works and practice, both solo and collaborative, impressed me; I could sense that they were kindred spirits: storytellers, makers and advocates of absurdity. Meeting them only reinforced this.
Mish Meijers is an inter-disciplinary artist based in Hobart, Tasmania. Her solo practice experiments conceptually and physically with surface tension: how one material conforms or abrades against another. She constructs sculptural tableaux with an alchemical and discordant sensibility. Her work distorts the inherent worth and significance of her objects with regard to popular culture, gender determination and functionality.
Tricky Walsh, who is also based in Hobert, Tasmania, employs interdisciplinary methods and materials in her work. Concerned with the tensions that develop from seemingly oppositional forces; she implements two and three-dimensional processes as a means of describing physical and philosophical systems of discovery and invention. She creates conceptual environments and machines reminiscent of architectural structures, woven with aspects of personal narrative.
Meijers was a 2009 CAST studio resident and in 2008 she was awarded the McCulloch studio residency in Paris. Walsh is currently on the CAST gallery program committee and is represented by Dick Bett Gallery, Hobart, Tasmania. They both collaborate with Alicia King in the installation/performance group, The Holy Trinity.
They have been working together for seven years with their ongoing collaborative project "Henri Papin – the Collector", that examines social anthropology through the superfiction of an obsessive character and his psychological schema. They recently started "The Subterranean Plant Society" - a fictional society that promotes a new collaborative practice focused on spatial and material concepts as governing forces in their artistic integration. Meijers and Walsh co-chaired and founded the Artist Run Initiative Six_a in Hobart until its closure in 2011.
Websites:
www.mishmeijers.com
www.trickywalsh.com

(Henri Papin 6: Schema, Installation detail, 2010, timber, found objects)
THE INTERVIEW 
Mish to Tricky 
(M) Can you talk about the link between your two incomplete degrees in architecture and art and how it has influenced your practice as an artist?
(T) I guess the thing that fascinates me about architecture is the scale and scope of being able to construct massive sculptural forms that have a very direct opportunity for people engagement – and on a fairly ritualised and intimate level. Unfortunately what frustrates me about it is that this is so rarely a considered aspect, and that much of it falls to creating mediocre spaces that inhibit creative living. If I was to be completely honest I think that I was just too young (at the time of studying) to actually be able to consider those aspects either, and somewhere along the way I sacrificed the livability for the creativity – which is as irresponsible, I think. I think that it takes an awesome degree of knowing and maturity to strike a balance between the two essential needs. As a result, not many people do it – or not particularly well (in my opinion) and it allows the construction of hugely monumental developments that consider too little the impact on people or the site/environment.
I guess what I do – and how the two co-exist in my mind is that I tend to create relatively macro-scaled built environments and objects that don't impact negatively on either people or the environment. I like the scale because for me it is almost more about the concept than the realisation, and I don't have to take responsibility for some huge eternal impact. Most of the materials that I use are fairly ephemeral; they can break, fold, stain, and degrade if not looked after – and environmentally, I think that is an element of my work also. I use timber (in its many and varied forms) because that's where I was initially trained, but also because it is such a warm, human material that we have an interdependent relationship with. The fact that we so often forget this will probably be the thing, which undoes us as a species… but I digress…
Fundamentally the connection probably is that I don't work particularly well in institutional models, and that working against an adversarial body and a dominant ideology appeals to me more. Which is probably childish, but that's how I'm rolling.

(Tricky Walsh, The Wasp Project, 2009, timber and balsa wood)
(M) You have a love of words and stories that present in your writing and comics, how do you think this filters down into other areas of your practice?
(T) Hmm. Initially I'm going to state that I'm more of a reader than a writer. But, overarching that I am most interested in communication. I love comics because they use the written word alongside visual communicators but also (when they're really good) they allow a kind of slippage between the two, which encourages alternative meanings. Like – I'm stating this, and I'm showing you this, but there is the slightest discrepancy between either's exacting nature so what I'm actually saying is this. That, and storytelling is basically how we've evolved historically as a civilisation, and how we still remember collectively the stops that have gotten us this far.
I think it presents in my work in both overt and subtle ways. I think that the comics and writing speaks for itself, but I think I also use it sculpturally in much the same way – the visual components fulfill the same function, should they be either 3 or 2 dimensional, and I do tend (I'll admit) to provide overly verbose descriptions that I see acting more as adjunct information than pure explanation.
The collaborative project Henri Papin that we work on is a superfiction, and has hosted both implied and overt narratives. I'm excited about the next couple of incarnations of the project because the constructed/overt aspects will come more and more into play. One element is a kind of endurance performance piece that the audience will be able to engage in on a level that will allow subconscious integration into the character of Henri. We will be writing and visually communicating in a kind of stream-of-consciousness way from inside a segregated chamber within the installation. I'm actually pretty excited at the idea of having to maintain a written fictional dialogue for a number of days. Imagine the descent into madness (!) Along the way we're also working with a scriptwriter and an actor to develop a series of short theatrical works based on the character. Theatre works much in the same way, I think, and works particularly well within the framework that we've constructed for the project.
(M) Why do you make art? What value do you see in creating work?
(T) Bloody hell.
Okay. Not to sound like a proselytizing crazy person, but I think that art is of the utmost importance to the world and the evolution of our species.
Even bad art is beneficial.
Anything that challenges the way we live or look at things, anything that contextualises ourselves or our surroundings, anything that records, creates or remembers history, anything that allows us for a minute to inhabit a previously unimagined space, anything that invents alternative visions or realities, which accesses and informs us of things we have no access to, which utilises tools or concepts we know or have no knowledge of in ways that reinforce our knowledge or confront it, which envelops us in truths and beauty, which provides meaty ugliness and nightmares, which makes our blood boil; our heart sing; our brain work harder, any thing that groups us on one side of the fence, or the other, or allows us to infiltrate the greater whole, or to be wholly independent.
Art does these things, singularly or concurrently, it does it for little reward or recompense, it does it because it – and its creators/participants/audiences determine that it must, that the world is slightly less without it and that without it we would fall into routine/apathy/complacency. That without it we would all feel a little less alive, a little less informed, a little less; full stop.
I do it because it is what I know how to do, and it gives me both the most profound joy and humbling solemnity, and for me, it's the only thing that does.
(M) You have a solo and several collaborative projects as part of your practice, can you explain the structure of each project, your place in it and list 5 positive and 5 negative for each project?
(T) I'm going to ignore most of the question and be slightly more conversational because really, my word limit is going to blow all the way out. I'm also not going to go very far into my solo practice because I see the collab stuff as extensions of what and who I am as an artist.
1. Henri Papin – I'm a co-creator, collaborator with Mish. I personally feel that where the character of Henri falls into dual personalities, encompassed of a conscious and unconscious self, that I perhaps inhabit more of the unconscious, but I can't be sure. Henri for me allows me to investigate the darker parts of humanity, something which I find hard to do when hampered by gender expectations. We've been talking about Henri as a feminist issue in that within the genres that he circumnavigates (film; particularly horror, literature etc) there is such a strong tradition of woman-as-victim or woman-as-hysterical-perpetrator that in order to construct a truly neutral observer it had to be male. I truly believe that women are harder to make invisible – particularly in environments, which are dark or unseemly. I suppose that I could work to challenge that conception, but I'd rather be able to ask the questions instead and get on with the larger story.
2. TSPS – (The Subterranean Plant Society – Myself and Mish) is a kind of Royal society of invention and discovery where theories are 'proved' in a creative realm and disbelief is heartily suspended. This is a relatively new project for us, which I am really excited about. It lets me get my nerd on. It's a meeting point between art and science, which I like, since so much of invention stems from the same place. This project is pretty aligned with my solo interests at the moment; (which is probably why I'm so content within it) in the construction of devices and machines, and fields of research which are focused on that point between mysticism and science; a kind of halfway melding of technology and superstition. At some stage we're planning a series of debates and paper submissions to audiences, which will allow a more performative edge.

(The Subterranean Plant Society, Geographical marking and locating device for the recording of significant sites of empathic energies, 2011, balsa wood, papier pulp, paint, latex, found objects)
3. THT (The Holy Trinity - Myself, Mish and Alicia King) is a three-person installation/performance project that also looks at mysticism but from a more actively spiritual perspective. We've created a belief system, and created ourselves as the gods of it, and recruit inductees into the system. It's kind of like if a religion was thought up by three nerdy little kids. There are heaps of rainbows and kitties and BMXs and terrible audience participation. It's a lot of fun.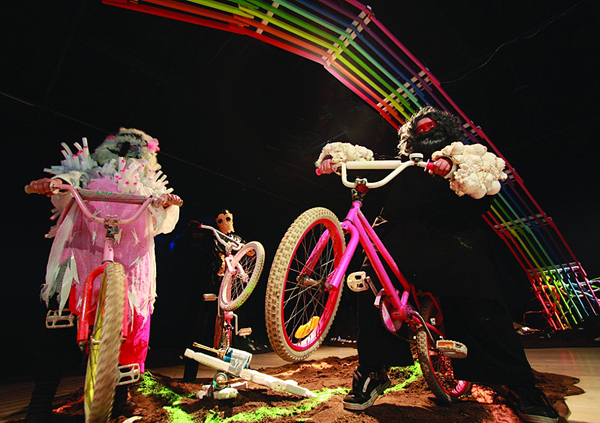 (The Holy Trinity. 1200cc mary. 2009. BMX, timber, performance, DVD, dirt, found objects)
(M) What ideal question about yourself would you like to make up for yourself here?
(T) That is a terrible question to ask, let it be said.
Um. I don't know. …
I guess that mostly the feedback or questions I get asked are about my working processes – they can be fairly laboursome, and it's the physicality of the work that gets a lot of attention – level of detail, blah blah; whereas the conceptual basis for the piece can quite often be overlooked in the face of that.
I guess that I'd like to be asked more about that.
Tricky to Mish 
(T) Why don't you exhibit your drawings since (I believe) they are such an inherent and defining part of your practice? Also - where do you see them fitting with the rest of your practice? Are they related or separate?
(M) Well, Tricky, you know I don't like to exhibit my drawings but I do on occasion show people my drawings in a one-to-one viewing and I have put some up on my website. Which, I do consider as a form of exhibiting work. But mainly, its because I find them too intimate and too personal to consider exhibiting.
Some of my drawings have yet to go through a filtering system that I require for my other work, (installation, sculpture and/or the collaborative projects). Compared to these, drawing is not hampered by a need for logistics, time, possibility, practical concerns or project management. To draw, all I need are drawing implements, a piece of paper and my choice of a planned approach to the blank page.
Also I do not feel there is an exhibiting forum for them here. They don't seem to fit in Tasmania, which is not to say that they wouldn't fit elsewhere; but since I have a demanding practice otherwise, my drawings have increasingly become a private domain.
I think that they're related in the sense that I use the area of the white page as a kind of site for the composition of my drawn objects. I guess that mostly they are almost installation based in the sense that I am trying to configure an experience within the drawing. I see all of my works and their compositions as being based on drawings.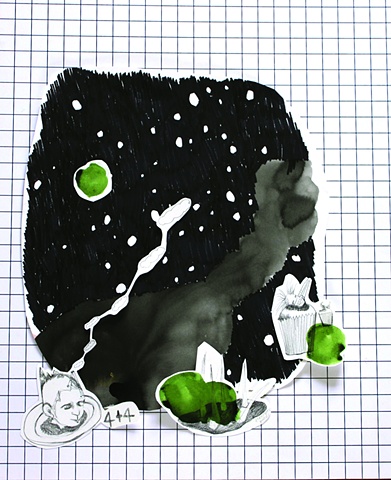 (Mish Meijers, drawing)
(T) Your practice and the way you approach it are quite baffling to me sometimes - can you verbalise your process when it comes to object making (sculpture and installation) - what dictates? materials? or concepts?
(M) Well, that's nice that after 10 years together I can still be mysterious or baffling in some way…I am going to go with mysterious rather than baffling though. I will try to explain. Firstly, like my drawing practice I have a number of different approaches on how I will make a work. But mainly I have recurring, overarching interests and concepts that feature and roll around in my head for longer periods, and then I have more short-term ideas that feed into or abrade against these core concerns.
Basic Dough Recipe 
Makes:
My art
Key Ingredients
· 1 cup of a perverse desire to fight, reveal, engage and submit to a variety of systems, you can use the following flours including; the art world, subversive feminist ideals, religion, and institutional thinking.
· ½ cup of material chosen to illuminate concepts and formal concerns.
· ¼ cup of randomness, trusting my radio antenna for material inclusion and objects that will imply narrative whether actualized or other.
· 4 tbsp of shitcore/handcrafted aesthetic where the artists' hand is apparent.
· 2 tbsp of ephemeral material such as sugar or something, which actively encourages the temporal nature of the work.
Variable Ingredients:
· I cup of fictional personality.
· 1 cup of acknowledging audience whether a real or imagined one.
· 1 cup of collaboration.
Method
1. Beat the concept of work into submission by having a cavalcade of ideas flow in and get reasoned out again and again …this stage is really bad for sleeping and stressful until one idea holds over the others, (and I look at you Tricky and am envious of your process of decision making. Mine seems to be painful, which I have tried to change, but it seems this is my process. I am looking forward to this changing.)
2. Preheat the studio to preparation preparation preparation, clean the space, have everything ready to use, don't push something if it doesn't want to work, use materials you were not going to use but found instinctively in that moment.
3. Once I have the idea and materials combined in many ways, slowly adding and subtracting materials and objects over either a number of days or weeks until it is ready to rest.
4. Leave the studio for a few days or week to come in with fresh eyes to view, change as required. This may take several weeks or one day depending on the work.
5. Ready for exhibition, always pack extra random materials to finish a fresh approach in situ.
My work relies on active Hunting, Gathering and the three states of being: Alert, Semi and Subconscious in order to survey my everyday experiences. In short, I see myself as a radio signal receiver (info in) and transmitter (artwork out).
Somewhere in the middle I act as the filtration system which arranges the external elements of specified research, random conversations, books I am reading, movies I watching and any physical materials that tweak my interest.
(Mish Meijers, from the SETI calling series, 2011, taxidermy wallaby and found objects)
(T) What inspires you the most and why and how? In either negative or positive ways.
(M) More than anything I love to be inspired; whether it's from being so excited about something new or its so awesomely terribly that I am inspired through anger to re- construct and conceptualise a solution to the issue I see. Being bored by artwork – sucks, I call it the zero-zone; this is when the artwork will not remain in my memory at all.
I actually love work that is beautifully problematic. Similarly I am also inspired by work that I perceive as opposite of me, clean, minimal, defined.
Being confronted with something new or troubling in its conception, whether it's an artwork or not excites me most of all. I love new information. I see incredible value in moving forward in all fields and striving to move forward in our society as being an intrinsically creative experience.
I find that disappointment in an organization or a system creates in me an irresistible need to create possible solutions for. It's the problems I find the most interesting. Whilst I am not arrogant or silly enough to state I am making new or troubling work – I strive to do that. I want to go back to study but am more interested in working external to a system that I perceive as uncreative and risky for artists.
(T) What's your earliest memory of art? And what is the mark/scar that it has left behind?
(M) Mmmmm that's a good question that has me a little stumped. The earliest memory of art was when Mum took me to the Ballet, it was a magical other worldly experience. I don't think this left a defining mark though, I think that moment came around 10 years of age, we had moved from the city to a farm, new friend came over for a sleep over and we drew together. I remember that we both spent a lot of time designing and finishing the work and I think the moment of sharing a skill with my friend validated and marked the both of us. I think we both made the decision that weekend to be artists. We are still friends, regardless of the tyranny of years and distance.
If I think about my personality and it in reference to art, this is weirdly relevant, I like to be autonomous and playful in a group/community environment. I value peer assessment, other artists that I respect for differing qualities for opinions above all others.
(T) How do you think we even manage to function as a collaborative team considering our processes and outcomes seem to be almost diametrically opposed? ;)
(M) Welllllllllllll, I think we work well because we are so different in our approaches.
Concepts
You – spend time researching on an area of interest, work up your idea, do a drawing and stick to it. You often go into detail on your projects and are quite fixed.
I - spend some time researching an area of interest, spend weeks in agony spitting and spewing ideas until finally I stay with one that I am happy with. I also drive you nutso bunko whilst I do this, cause I verbalise and am stressed the whole time, you try to make me feel better…sorry poppet.
Working in the studio and production
You – get studio in new and beautiful formation, sit down and work doggedly until you are allowed to finish.
I – spend time making an ok space and making sure I have all my elements and materials around, then I leave. When no one else is there, I put some music on and dance around and place the elements at periods of approx 2 hours, then I leave, then I am back. I like to call it the bee to flower approach.
I think we work well together because we admire the other for the skill that defines them – I think yours is precision, detail and craft, I think mine is instinct, broadness and editing.

(Henri Papin 6: Schema, Installation detail, 2010, timber, found objects, fake snow)